A Good Backpack
Whether you're a writer, programmer, or bookkeeper, your work bag is likely packed with pens, notebooks, headphones, and other gadgets and tools you need for work. That said, choosing a good work bag is essential for convenience and health. After all, it doesn't matter if you can fit everything into your modern work bag when your back still hurts at the end of your shift.
If you frequently experience back pain due to uneven stress on the spine, it's highly recommended to consider investing in a backpack with decent back support. These backpacks are usually light and compact, allowing you to carry all your work equipment without experiencing excruciating pain.
Bonus tip: if you always can't seem to find keys, earphones, or your special pen because your work bag is slightly overcrowded, I suggest a backpack with lots of compartments. That way, you'll always know where the keys are and never again ruin your favorite notebook trying to find them.
Wireless Keyboard and Mouse
As a hybrid worker, you've probably gotten used to continually switching workplaces. I know how hectic hybrid work can be – some days, you work from your bedroom, the next day you're in the office, and then somehow you end up joining a coworking space even though you planned to work from your workstation at home.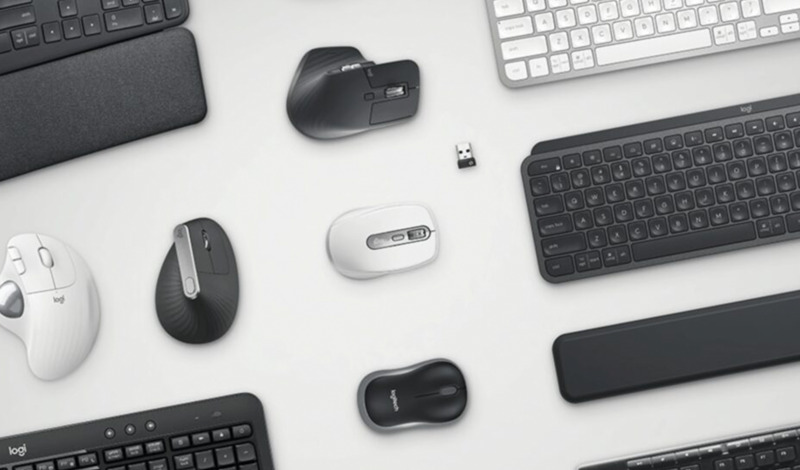 Photo illustration: Freepik
Imagine how hectic your life would be if you had to unpack and connect all gadgets at a shared coworking space or a coffee shop. Luckily, a good pair of wireless mouse and keyboard can solve this issue. Truth be told, a wireless keyboard is not necessary unless you're working on your tablet or phone. A wireless mouse, on the other hand, could be a lifesaver. The best part is that you can take it everywhere and connect it to most devices, and it doesn't take up too much space in your bag, which is especially important if you also carry a laptop.
A Silent Mouse
For those who already have a wireless mouse but want an upgrade, I have a question – have you ever tried to finish some work while commuting, and how did that go? I know I have, and people around me weren't always happy with the clicking sound my mouse makes.
A silent mouse and keyboard combo could be a lifesaver if you work in a quiet train or coffee shop. Besides, if you don't like the sound of your PC or laptop accessories, now is the best time to consider switching to their "silent" versions. You could even upgrade your keyboard by installing sound-dampening foam inside the case.
Portable Charger
A portable charger allows you to recharge your devices and gadgets in places where a wall outlet isn't available. Or in other words, it's perfect for hybrid employees. No more riding the bus home and wondering why you forgot to charge your phone or wireless headphones, as portable chargers are an easy remedy to our forgetfulness.
Still, pay attention to the charger type and consider your needs before buying one. If you have a smartwatch and wireless headphones, you want to find a device capable for charging those devices. Similarly, you'll also have to check what cables you'll need, as the USBs for headphones and mobile phones, for example, always differ.
Portable Wi-Fi Routers
Portable Wi-Fi routers are must-have devices for hybrid workers because they offer instant access to the web regardless of your location or time of the day. In addition, portable routers are usually cost-effective, allowing you to purchase a basic plan that comes with just enough internet to last during your commute. A mobile router may also come in handy when you can't connect to the internet in your office or when you've spent all your mobile data and just need to google something quickly before your return home. Not to mention they're handy and fit in the palm of your hand.
Headset and a Webcam
Some hybrid workers don't work on laptops. Instead, they have an office PC and another remote work device. In these scenarios, one device is almost always better than the other. So, to ensure consistency and a seamless transition between the office and remote workstation, it's advisable to consider buying a webcam and high-quality headsets. A webcam can be used at the office and at home, even if your device already has a built-in camera. So, if your office camera is better but can't take it home from work, finding a good webcam for your home office could be a game changer. That is, if you spend most of your working hours in meetings and need a good home office web camera to make yourself appear more professional.
A good pair of headphones might help improve communication in meetings and even avoid distraction. If you're always eager to join every office small talk or can't seem to focus at home if you don't listen to specific music, noise-canceling, high-quality headphones will solve both problems.
Lumbar Cushion for Support
No office chair can compete with my gaming chair at home, and I'm sure many hybrid workers feel the same. Sitting on an uncomfortable chair can make you groggy, tired, mean, and in pain. If you can't sit still in your office chair for similar reasons, a lumbar cushion could make your forever uncomfortable experience with office chairs a little more bearable.
A good cushion can transform even a non-ergonomic office chair by making it more comfortable and suitable for your spine shape. This additional piece of equipment can improve your posture, eliminate back, neck, and shoulder pain, and ensure you're never slouching again.
Conclusion
Finding a balance between office and remote work can be challenging, especially if you spend a lot of time commuting or if the office space differs drastically from your home haven. However, investing in minor details such as a lumbar support cushion or a portable charger can make your office work more pleasant commuting a lot easier.