What Is Epic Games?
Epic Games is a video game company determined to bring entertainment to your device. Its most popular game to date is Fortnite, a multiplayer survival game with approximately 400 million registered users as of 2023.
Despite already being one of the industry leaders in gaming, Epic Games is already utilizing blockchain technology in hopes of reshaping the gaming industry as we know it.
The integration of NFTs with games has been slow, but as more industry giants tackle this challenge and recognize the opportunity for innovation and growth, the market will likely adapt in the coming years. If that happens, we can expect to see more exciting projects emerging in the world of Web 3.0.
The company has listed five NFT-based games on its store so far, including Cards of Ethernity, Chainmonsters, GRIT, Blankos Block Party, and Core. Blankos Block Party was the the first NFT game in this cluster released on the Epic Games Store. It's s an open-world multiplayer game that allows players to build their own game worlds.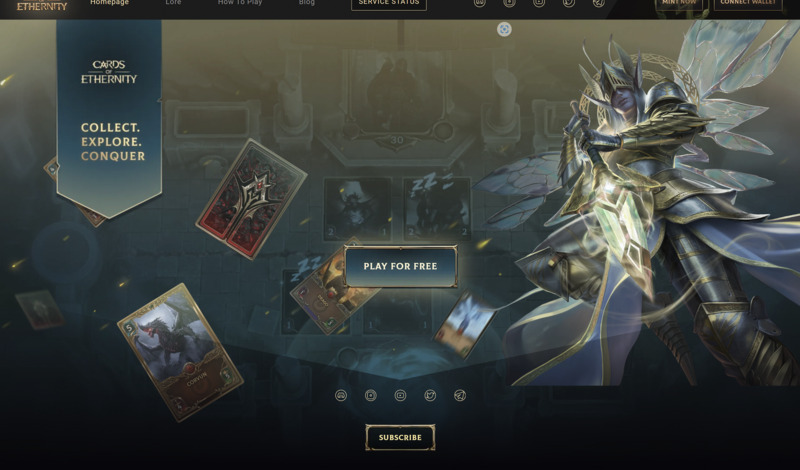 Source: Cards of Ethernity
Epic Games Company Unveils 20 More NFT Games
After successfully releasing five NFT titles, Epic Games is now aiming to further dabble in this relatively unexplored area of gaming. Steve Allison, the chief executive of Epic Games, recently unveiled the company's plan to introduce nearly 20 additional NFT games. This move will make the blockchain gaming scene even more exciting and versatile.
By listing 20 additional NFT games, Epic Games is showcasing its commitment to making blockchain technology accessible to all. This extensive release of games will also serve as a significant indicator of whether blockchain gaming has the potential for mass adoption. In other words, the volume of games flooding the market will provide valuable insights into the reception and acceptance of blockchain gaming.
It's important to note that while Epic Games allows NFT games to be released on their official store, they have not been directly involved in creating or publishing these games. This approach will continue in the future, meaning that all the upcoming NFT games available on the Epic Games Store will be developed and published by independent developers. Epic Games serves as a platform for these games, providing a marketplace for independent creators to showcase and distribute their NFT-based games to a wider audience.
Photo illustration: Freepik
Another important fact is that, as stated by Steve Allison, Epic Games is not involved in the financial aspects related to these games. Allison confirmed that "crypto games' publishers are responsible for transactions, customer service, and handling refunds and fraud." Epic Games focuses on providing the platform and marketplace for these NFT games, while the publishers of these games take on the responsibility of managing financial transactions, customer support, and addressing any issues related to refunds or fraudulent activities.
Despite allowing NFT games on their store, Epic Games remains aware of the challenges within the crypto world. As a result, this gaming giant has established a trust and safety team dedicated to monitoring these projects. Their primary goal is to ensure that the Epic Games platform maintains its reputation as a reliable and trustworthy marketplace for games.
If there's any bad behavior, we are going to be very swift to shut that down.
What NFT Games to Expect on the Epic Games Store?
If you're wondering what Epic Games has in store for us, here are some fun game titles that will soon be available on the Epic Games Store:
DeFiMons – DeFiMons is a massively multiplayer online role-playing game (MMORPG) where players can buy, sell, and auction their DeFiMons NFTs. Drawing inspiration from Pokémon, this game allows you to engage in monster battles, embark on quests, and create your own fantasy world according to your preferences.
Last Remains – If you consider yourself a fan of the Last of Us, Last Remains is a game for you. If that wasn't a hint enough, Last Remains allows players to immerse themselves in their 'surviving the zombie apocalypse' fantasy.
Meta Nemesis – For all those who appreciate a good tactical shooter game, you'll be pleased to know that Meta Nemesis is coming soon to the Epic Games Store. If you're seeking a refreshing alternative to games like Halo or Doom, this Web 3.0 game has the potential to captivate your interest.
These are some of the NFT games that are soon to be listed on the Epic Games Store. If you want to examine the full offer, you can do so via this link.