WEBMIND: Can you tell us the inspiration and motivation behind starting Haos Community Space, the first invite-only coworking space for startups in Belgrade?
Blanka Šupe: I got the idea for Haos about a year ago when I was hosting many of my friends and professional peers who relocated from Russia, Ukraine, and Belarus due to the war. During the first months of the war, I hosted around 20 people in my apartment. We were using my living room and kitchen as our coworking space. At that time I realized that there was a need for a space that would connect different communities in Serbia. Besides wanting to create a beautiful, inspiring, and one-of-a-kind space for work, I put a big focus on fostering a community of like-minded people from all over the world.
To be honest even before I had a clear idea to open a coworking, I really wanted to use all of my life experiences to do something helpful for Serbia as I really wanted us and our country to be known for something better than it currently is.
I liked the idea that I could build bridges between different groups and help foster entrepreneurship.
WEBMIND: You've lived in cities like Moscow and San Francisco, known for their vibrant startup ecosystems. How have these experiences shaped your perspective on entrepreneurship and co-working spaces?
Blanka Šupe: Despite Moscow and San Francisco being thousands of miles apart, they are very similar in their approach to entrepreneurship and business in general. And I have adopted that mentality entirely.
First of all, Russians and Americans are 100% workaholics, I am not saying it's really good or bad, but it is a fact. But I like that they take it seriously and try to give their all to succeed.
Second of all, they have a big focus on customer service and building products around the customer needs.
Then there is this appetite for scale. It might have something to do with the size of those countries, but American and Russian startups almost always have global ambitions.
In terms of co-working spaces specifically, I think my idea wasn't necessarily shaped just because I saw a coworking space I liked in the US or Russia, it was a mixture of my experience and things I felt they were doing wrong.
I believe that office spaces are an outdated model, one that does not foster creativity and productivity. People want more flexibility when it comes to where they do their work. They also want the surrounding space and crowd to be inspirational.
So I think that even co-working spaces need to change and adapt. It is not enough anymore to just provide an okayish and cheap space for people to sit for a few hours. People value more if you provide them with a total experience – space, people, entertainment, and opportunities for growth.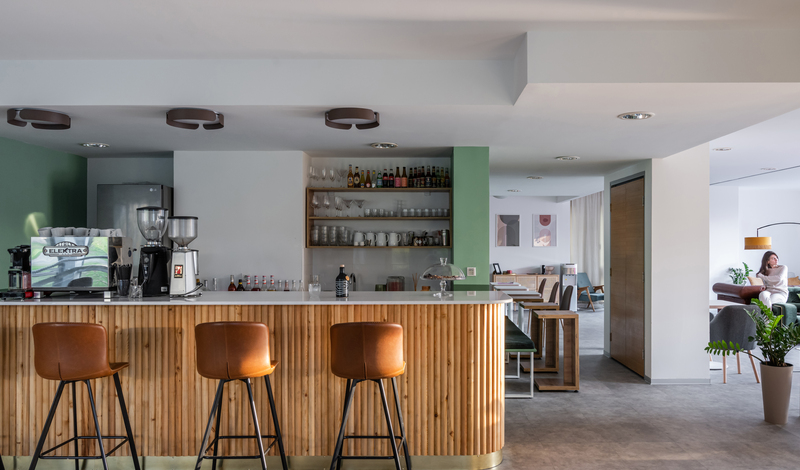 Source: Haos Space
WEBMIND: You have a background in founding and advising startups. Could you share some key experiences or challenges from your entrepreneurial journey that inspired you to create a co-working space like this?


Blanka Šupe: My first experience of working in a coworking was when I founded my own startup in San Francisco. We were a small team of 4 people and we couldn't afford an office, but we also wanted to be surrounded by people who could help us. We joined Runway, which functions as part accelerator and part coworking space. We had to go through an interview process and be recommended by an alumni. As you see I took that approach and applied it here as well.

But actually, that experience was instrumental in the early success of our startup. We found our first customers there, we user-tested our MVP among other startups in the space, and we also got our first mentors and advisors through the Runway network. And that is what we are trying to provide at Haos as well.
WEBMIND: Haos Community Space aims to put Serbia on the world innovation map. Could you elaborate on your vision and the role you see this co-working space playing in achieving that goal?
Blanka Šupe: Space is just part of what we do. It is the physical platform for everything else – community, education, and mentorship.
We do a lot in terms of peer-to-peer knowledge transfer as well as bringing in experts and hosting regular events with international speakers.
Despite the fact that we are invite-only we are extremely open and trying to remove borders to bring Serbian startups closer together and closer to the international community.
WEBMIND: What specific amenities and services does Haos Community Space offer to make it a compelling choice for startups and entrepreneurs in Belgrade?


Blanka Šupe: I believe we provide everything one might need for productive work. We have a beautifully designed space with lots of natural lights, comfortable chairs and desks, and plenty of opportunities to change places during the day. Obviously, we have meeting rooms and phone booths for meetings. And then the most important thing – we have Valentina i Karanfil cafe where you can enjoy delicious coffee, pastry, or chocolates during the whole day and then get cocktails, wine, or beer in the evening.
WEBMIND: Networking and community building are essential for startups. How does Haos Community Space foster connections among its members, and what kind of social events or programs do you host to facilitate this?
Blanka Šupe: At Haos we host a lot of professional events (startup mixers, expert sessions, fireside chats with unicorn founders), but we also do a lot of social gatherings like wine tastings, happy hours, game nights, craft workshops, and yoga classes.
We also host regular Resident Meet-ups for new members and weekly Haos Breakfasts that allow people to meet and mingle with other members. Besides that, we have Slack and Telegram chats for members to keep in touch regularly.
Source: Haos Space
WEBMIND: Can you share some success stories of startups or entrepreneurs who have benefited from their association with Haos Community Space and how your space has helped them grow and expand, both within and outside of Serbia?


Blanka Šupe: We have a ton of people who met their business partners, future customers as well and friends in the space. We also now have startups that have grown from an early-stage startups without customers to hyper-growth startups within one year. One of the resident startups in blockchain has grown to 800K users in just a few months, which is amazing.
We obviously can't take credit for all of their successes, but I believe that providing them with the community, events, and space really contributed to their growth.
WEBMIND: Comfortable workspaces can boost productivity. How have you designed the desks and chairs at Haos Community Space to create a conducive and inspiring atmosphere for your members?


Blanka Šupe: We really focused on making sure it is not like your typical office space. I wanted the design to be more comfortable and inspiring than my dream home would feel like. So we chose the most comfortable chairs we could find that would still be eye-pleasing.
I believe aesthetics are a big part of whether or not you feel good in the space. If something is gray, cold, and unwelcoming, that doesn't really help you focus on doing something creative.
We wanted to remove any friction for people to feel relaxed, productive, and happy in the space.
WEBMIND: In today's competitive co-working market, what sets Haos Community Space apart and makes it an attractive choice for startups and entrepreneurs looking for a workspace in Belgrade?


Blanka Šupe: Well, I think everything I already shared. We have a different approach, we are not just coworking, we are so much more. We are a community. As a startup founder and advisor myself, I know what startups go through and I understand what they need. So my approach is very customer-focused. We are growing and changing with our community based on what the current needs are.


WEBMIND: Finally, what plans and aspirations do you have for the future of Haos Community Space, and how do you see it contributing to the growth and innovation of the startup ecosystem in Serbia and beyond?
Blanka Šupe: Right now we are working on 3 main projects. First, we want to open more locations for Haos in Belgrade and beyond to allow more startups and people in IT to join our community.

Second, we want to launch a global mentorship and on-demand accelerator program. This would help scale everything we do ad-hoc already to help startups grow outside of Serbia.
Last but not least, we want to scale our educational events program and host larger events with even more international speakers. I think it is important for entrepreneurs to hear first-hand experiences and get out of our Serbian bubble as much as possible.
Bright Future for Serbian Startup
Blanka Šupe and her team at Haos Community Space represent a bright future for the Serbian startup ecosystem. Their dedication to providing a space that not only encourages productivity, but also fosters a sense of community and support, makes Haos an ideal place for every entrepreneur ready to delve into the world of innovation and growth. Through Haos, Blanka Šupe is not only transforming the way entrepreneurs work and collaborate, but is also laying a solid foundation for the future of startups in Serbia and beyond.