Proton VPN
Born and raised in Switzerland, Proton VPN offers you the security of the world's most robust privacy regulations. It isn't the cheapest VPN on the market, but it provides a free version for those who want to test the waters before diving in or benefit from a moderate, yet free, VPN service.
| | |
| --- | --- |
| Proton Free VPN Pros | Proton Free VPN Cons |
| Connects you to the fastest server | A limited number of server locations |
| Includes a kill switch | Doesn't offer chat support for a faster service |
| Doesn't require payment details | |
One of the main reasons Proton VPN made it to our list of best free VPNs is that it offers immaculate security and unlimited bandwidth allocation, which are also extended to its free users. Free VPNs usually lack the same level of protection as their paid counterparts, leaving users with no choice but to eventually upgrade to a paid subscription. In addition, its approach to data allowance underscores Proton's commitment to attending to all its users, allowing everyone to reap the benefits of their VPN service.
Still, it's no secret that the free VPN service differs greatly from paid subscriptions. For example, Proton Free VPN offers over 100 servers across Japan, the Netherlands, and the US. The number of servers available with the free version is low compared to Proton's paid VPN subscriptions, which include connections to over 1,900 servers across 65+ countries. Other differences in feature selection include:
| | | |
| --- | --- | --- |
| Proton Free VPN Features | Proton VPN Plus Features | Proton Unlimited Features |
| No payment details | Highest VPN speed | All features from Proton VPN Plus subscriptions |
| Unlimited bandwidth | High-speed streaming on Netflix, Prime Video, and other relevant streaming services | Mail Plus features, including three custom domains and 15 email addresses |
| Customer support | Live chat and priority support | Encrypted calendars |
| Features from Proton Mail, Calendar, and Drive | Ad blocker and malware protection | Up to 500 GB Proton Drive Storage |
| | Protection on up to 10 devices | |
| | Double hop and tor over VPN features | |
Now, a VPN connection slows down internet speed regardless of the device, primarily because your internet traffic passes through a VPN server. But you'd be surprised to learn that Proton Free VPN has minimal impact on the connection speed, making it an excellent choice for streaming.
Here are the latest speed test results on my PC before I established a VPN connection with Proton servers.
Source: speedtest.net
And this is the connection speed with the Proton VPN running in the background:
Source: speedtest.net
Although Proton Free VPN does, in fact, affect connection speed on all my devices, it's worth noting that this is a common flaw of VPNs. Luckily, changes in connection speed results were minimal. After multiple tests at different times of the day, it's safe to assume that Proton Free VPN doesn't affect the user's ability to stream content or browse the internet while using a VPN.
Still, you should be aware of one minor drawback. If you're a huge Netflix fan, Proton Free VPN isn't the right fit for you, as it doesn't work with this streaming service provider. But, if you, like myself, are more of an HBOMax enthusiast, Proton Free VPN will suffice. That is if you want to access streaming libraries in the US, the Netherlands, or Japan, of course.
Windscribe
Windsribe is another popular VPN and proxy service provider that could elevate your online safety and hide your real IP address in a matter of seconds. Although you can install an app and find a plan that suits you best, the Windscribe browser extension is free, doesn't require card information, and comes with a 10GB worth of monthly data allowance.
| | |
| --- | --- |
| Windscribe Pros | Windscribe Cons |
| Secure, with no DNS leaks | A narrow selection of servers |
| Good for streaming | Operates in Canada (Five-eyes country) |
| No limit to simultaneous connections | |
I love Windscribe because, above all, it offers convenience. The installation process is simple, and you can easily switch servers from the drop-down Windscribe menu on your browser. Besides, your data becomes almost impossible to read with AES 256-bit encryption, which is included in the Windscribe free VPN service.
Now, Windscribe does have flaws, primarily related to connection speeds. When connected to Windscribe servers in Frankfurt, connection speed drops significantly. From roughly 145 Mbps, the download speed on my device plummeted to 108.26 Mbps, while the upload speed went down from 14.73 Mbps to 6.76 Mbps.
Source: speedtest.net
Keep in mind that despite affecting the upload speeds, my download speed remained higher than average. So, yes, Windscribe does put some strain on the network, but you could still use it for daily mundane tasks or leisure activities. Speaking of leisure, Windscribe doesn't have any issues with Netflix compatibility. And with access to free servers in over 10 countries, this VPN is a versatile and decent option for streaming.
Here's how Windscribe free VPN differs from Windscribe paid subscriptions:
| | | | |
| --- | --- | --- | --- |
| Windscribe Free | Windscribe Build a Plan | Windscribe Pro | SrcibeForce (team accounts) |
| 10GB of data | Data allowance varies | Unlimited data | Unlimited data |
| Connection to roughly 10 server locations | Server location vary, $1 per location | Access to all server locations | Access to all server locations |
| No payment details needed | Access to R.O.B.E.R.T. – a filtering tool | Full access to R.O.B.E.R.T. | Shared static IPs |
| Could be used as a browser extension only | | IP blocking tool | Team management tools |
As you can see from the table above, Windscribe Free VPN doesn't include a bunch of extra goodies you can expect to get with paid subscriptions. Still, if you're scouting for a decent and relatively fast VPN, look no further. Designed with the user in mind, Windscribe VPN proxy is an excellent choice for those looking for a quick solution to their needs.
If you install the free version, you won't have to provide payment details. However, you should note that keeping the VPN service active at all times will deplete your data allowance before the month ends. In my experience of using Windscribe's free VPN service for months, I've usually run out of data fast. Of course, if you become mindful of your data usage and rely on this VPN only when you really need it, 10GB of data allowance should be sufficient.
TunnelBear VPN
TunnelBear may not be a free VPN you can use on a daily, but on those rare occasions when you decide to give it a shot, you'll know you can rely on its fast connection speeds and overall good service. TunnelBear free VPN is not for everyday use primarily because the free service comes with a limited data allowance. However, its fast connection speeds and ease of use secured its spot on our list of best free VPNs in 2023.
| | |
| --- | --- |
| TunnelBear Pros | TunnelBear Cons |
| Intuitive user experience | 2GB of data allowance |
| Available on Mac, Windows, iOS, and Android | Not suitable for Netflix |
| 20+ server connections | |
TunnelBear could be your VPN of choice because it offers multi-platform support, but you could also use it as an extension for either Firefox or Chrome. The app is convenient and easy to use, making this VPN a no-brainer for newbies diving into the VPN waters for the first time.
Source: speedtest.net
Now, the excellent connection speed is another reason to give this VPN a try. It barely affected the upload speed on my device, and the download speed results show that this VPN is good for gaming or even streaming. Speaking of streaming, TunnelBear occasionally works with Netflix, so it's not the most reliable choice for when you want to lay back and relax watching your favorite TV show.
Like any other VPN service provider, TunnelBear is much more generous to clients subscribing to a paid service. With that in mind, the table below illustrates what you will be missing with the free service:
| | | |
| --- | --- | --- |
| TunnelBear Free VPN | TunnelBear Unlimited | TunnelBear Teams |
| No-logging policy | Unlimited data | All features included in the Unlimited plan |
| Doesn't collect IPs or personal data | Premium servers | Centralized team billing |
| 2GB data allowance | City-level server selection | Admin and account manager tools |
| 20+ server locations | Priority customer support | |
Are you ready for a not-so-pleasant truth?
Well, after all, you are here because of the free VPNs, so you should know what you're getting yourself into. Well, some VPN providers offer free service, but at a hidden cost: they collect your personal data and sell it to third parties to "recoup their losses" for offering a free service.
Thankfully, TunnelBear is not one of those providers. They not only have a strict no-logging policy, but they don't track users' IPs or other personal data either. So, while they might limit data usage, your personal data will always be safe with this service provider.
Last but not least, PrivadoVPN is another Swiss VPN service provider guaranteeing immaculate security. After recognizing that internet users have very few tools to fend for themselves online, they've decided to offer free service and allow anyone to implement state-of-the-art security solutions. Kudos to them, really.
| | |
| --- | --- |
| PrivadoVPN Pros | PrivadoVPN Cons |
| Works with Netflix and other streaming services | No live chat customer support |
| Uses 256-bit encryption | Only 12 available servers for free users |
| Good for streaming and gaming | |
Of all the VPNs listed in the article, I've saved the best for last. In terms of connection speeds, PrivadoVPN had the best performance. The difference between no VPN and using a VPN was so minor I barely even felt the strain.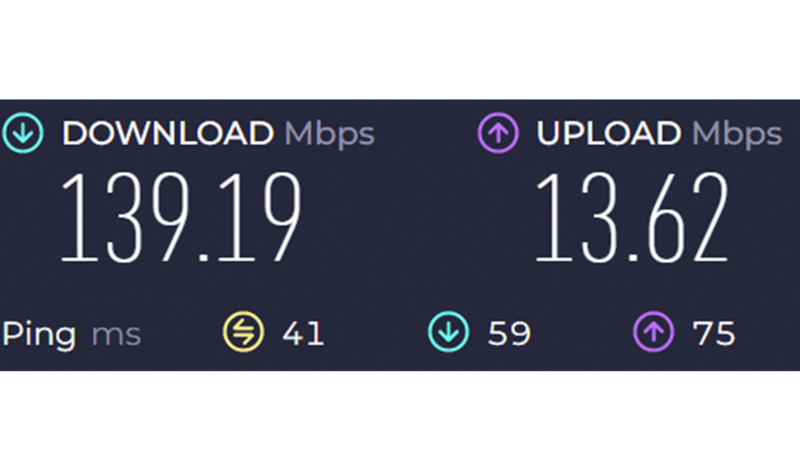 Source: speedtest.net
More importantly, ProvadoVPN is the only VPN offering the same security and speed to its paid and free users. Yes, you've read that right – PrivadoVPN free users share the most important benefits with paid users. However, this service provider offers 10GB of transfer for free each month, so you might still want to watch over your limits.
Of course, you should still consider a paid version, if possible, as it comes with extra features such as an ad blocker or even parental controls. At the time of writing, they have pretty good discounts, too, meaning you can save up to 82% and get a reliable VPN for less than $2 per month. If that sounds too good of an offer, let's see how the free service differs from a paid one.
| | | | |
| --- | --- | --- | --- |
| ProvadoVPN – Free Version | ProvadoVPN Monthly Plan | ProvadoVPN – Yearly Plan | ProvadoVPN – 24-Month Plan |
| 10 GB of transfer | Unlimited data and devices | Unlimited data and devices | Unlimited data and devices |
| Same infrastructure as paid versions | Servers in 63 cities | Servers in 63 cities | Servers in 63 cities |
| Access to 12 global servers | Ad-blocker | Ad-blocker | Ad-blocker |
| | Multi-platform support | Multi-platform support | Multi-platform support |
Is Free VPN a Good Decision?
Like any other free service, free VPNs have several limitations, ranging from weaker security to fewer options regarding server connections. Paid VPNs, on the other hand, offer better security, advanced features, and usually priority customer support.
Yes, using a free VPN is undoubtedly better than no VPN at all, especially if you've been neglecting your cyber hygiene practices. It can elevate your browsing experience and hide your IP address when you're connecting to public Wi-Fi networks, minimizing the risk of a data breach. However, if you want to drastically elevate your online safety, it's essential to recognize that opting for a paid service is a superior choice for online safety and shouldn't be debatable.
Of course, even a paid VPN alone can't guarantee ultimate protection from online harm, let alone a free version. Still, it's a good starting point towards better security.
Photo illustration: Freepik
Apart from better security, paid VPN subscriptions offer faster connections speeds and support for multiple devices. Some even include additional goodies such as malware protection, adblockers or unlimited bandwidth.
Note that these additional features are not essential, but they could make a significant difference in your browsing experience. So, all things considered, choosing a paid VPN service instead of a free version is a wiser decision. Besides, most VPN services will cost you less than a standard Netflix monthly subscription, making them a cost-effective approach to online safety.