What Is Yuga Labs: The Moment It All Began
Yuga Labs was founded in February 2021 by two artistic and geeky friends who became interested in blockchain technology. Two years later, Yuga Labs is the NFT industry leader, with thousands of NFTs circulating the market and a wholesome community keeping the project up and running.
Yuga Labs is a blockchain technology company specializing in blockchain, crypto, and NFTs. However, it's safe to say that the primary Yuga Labs focus rests on digital collectibles, or NFTs. The founders named the company after Yuga, a Legend of Zelda antagonist who can turn himself and other people into 2D art.
Source: IGN
What sparked the company's development is a simple message saying: "Let's make an NFT." Yet, soon after its inception, Yuga Labs got its first 15 minutes of fame, which eventually turned into global hype of two years and counting.
The Yuga Labs founders are Gordon Goner and Gargamel, and No Sass and Emperor Tomato Ketchup (all pseudonyms) who joined the project soon after the company's inception. During the early stages of Yuga Labs' development, they all used pseudonyms within the community. Unfortunately, journalists discovered the founders' real identities soon after the project took shape. They exposed them to the public, leaving them with only half an hour to come to terms with the upcoming events.
It's speculated that the reason why they chose to use pseudonyms is to create a safe space for everyone to shape their identity and create an online persona that doesn't define them by gender, age, skin color or any other socio-economic factor. The club members still use pseudonyms within the community, but the founders' legal names have gone public.
The Bored Ape Yacht Club: The First of Many Yuga's Treasures
Yuga Labs' first debut NFT collection, Bored Ape Yacht Club, was launched in April 2022, only two months after they established the company. The collection was inspired by the early crypto holders who "aped in" yet always seemed bored with the current crypto events. As a result, we've gotten a collection of 10,000 Bored Apes, which were at the time minted for around $200 each.
Source: BAYC
One of the many things that make Bored Apes special is a merger of cartoon, anime, and skate art styles. These NFTs are vibrant, visually pleasing, and utterly unique. Each Bored Ape is generated randomly based on over 172 traits, and that's one of the reasons people love them so much- they're authentic, and they allow people to express themselves by purchasing art that, in a way, resembles their character. And as the traits are chosen randomly by a program, the founders themselves aren't the ones who would predetermine how rare and unique a specific NFT could be.
Another reason for Yuga's success is that the BAYC NFTs are also membership tickets to the Bored Ape Yacht Club. All of a sudden, NFTs weren't just digital collectibles people could trade on the internet. Instead, they offered something the money can't always buy- a sense of belonging the NFT owners found within the community.
The collection gained instant popularity and was sold out on May 1st. Still, the bigger achievement, at least in my opinion, is that Yuga Labs' NFTs took over the internet, and the iconic Bored Ape became the staple of the ever-growing community.
The hype around Bored Ape is so widespread that even celebrities like Paris Hilton or Justin Bieber joined the wave and bought their own BAYC NFTs. Now, considering that celebs didn't really show much interest in Web 3.0 before the Bored Ape Yacht Club existed, we should give Yuga Labs more credit for promoting NFT culture and attracting people from various industries to get their share.
The Inspiration Behind the Art
The two friends who founded Yuga Labs were writers fascinated with blockchain and all things crypto. And once NFTs became more prevalent, they decided to give them a shot. Using nothing but their creativity and imagination, they've created a futuresque world that has evolved drastically since they brought it to life.
The first idea was to drive utility by creating a collaborative art piece everyone could contribute to. Still, after exchanging ideas and building the lore, they've ultimately decided that the project should revolve around a Yacht Club that is also a dive bar somewhere in a swamp where all the bored apes get to hang out.
Yuga Labs: The Early Stages of Company Development
As stated earlier, Yuga Labs was founded in February 2021. Two months later, in April, the founders announced the project on Twitter, along with the first project roadmap. The first benefit of the BAYC membership was "The Bathroom," a communal graffiti board accessible to club members only. The idea was to give the Bored Ape owners the opportunity to paint one pixel every 15 minutes on the collective doodle board.
Source: BAYC
In the interview with Laurie Segall, CEO of Yuga Labs who uses pseudonym "VStrange", said that the first thing drawn on the board was graffiti of male genitalia. In the same interview, she disclosed that the first concern about the community artwork was that the people would do just that- draw inappropriate symbols all over their project. However, that's exactly what inspired the Yacht Club and the "bathroom" project.
The public wasn't fascinated with the interview, and many turned their backs to BAYC after it was released. Nevertheless, the BAYC still stands strong, and welcomes new community members almost on a daily basis.
The Bored Ape Yacht Club collection sold out overnight, and a week later, the Bored Ape Lo-fi YouTube channel was created. However, it didn't take Yuga Labs much longer to introduce new goodies to the market. In June of 2021, Bored Ape Kennel Club (BACK), which is Yuga Labs' second NFT collection, was launched.
The collection was made up of 10,000 dog NFTs the BAYC members could have "adopted" for free. The BACK holders only paid the gas fees for minting, and Yuga Labs donated royalties acquired from secondary sales (over $1 million) to charity. At this point, more people were beginning to realize that BAYC membership could be lucrative. And they weren't wrong- this was just the warm-up for even larger and more significant projects.
Source: Kraken
In 2021, brands such as Adidas initiated collabs with Yuga, and another vital collection dropped in August of that same year.
The Mutant Ape Yacht Club
The Mutant Ape Yacht Club is a collection of 20,000 Mutant Apes that could be created only by exposing Bored Ape NFTs to a serum or minting them during the public sale. The Mutant Ape Yacht Club collection was created as a reward to loyal Ape olders who, essentially, got an entirely new NFT after exposing their Apes to a vial that was randomly airdropped to corresponding wallets of Bored Ape owners.
Making the collection available to the public ensured that outsiders could join the community via a lower-tier membership. Still, the Bored Ape holders reaped the most benefits, as they essentially got Mutant Apes, which now have a worth of 10+ ETH each, for free.
So, how did that play out?
Well, for starters, of 20,000 Mutant Apes, 10,000 were put on sale, while the other 10,000 were reserved for Bored Ape Yacht Club token owners. Those lucky 10,000 were given random "vials of mutant serum for Bored Apes to "ingest."
Source: MAYC
It's worth noting that three tiers of mutant serum existed on the market: M1, M2, and Mega Mutant. If an Ape "ingests" one of the first two, the Mutant Ape will keep some characteristics of the original ape, while Mega Mutant vials cause much more defect and mutation.
All the serum vials were burned after use. Another interesting fact is that each Ape token could mix with one vial of a specific mutation. So, if you had two M1 vials and tried to create two Mutant Ape NFTs, the second vial wouldn't have worked. On the other hand, M2, or even Mega Mutant vials, would.
The collection sold out quickly, even though collectors couldn't choose between Mutant Apes set for sale, as they remained unrevealed until the public sale was over. This ensured that no one knew which form the Mutants would take before the sale ended, not even the people behind the project.
Yuga Labs: Beating 2022 and Its Notorious Market Crashes
On January 1st, V Strange became the company's CEO, and the Apes vs Mutants mobile game was released only 20 days after the company got its representative. The game was scheduled for December 2021, but Apple bailed by taking down the game from the store. Despite Apple's last-minute decision and other obstacles, Yuga Labs released Apes vs. Mutants at the end of January 2022.
After the "Apes vs. Mutants" 7-day game competition, Yuga went quiet until March, when the company donated $1 million to Ukraine and acquired other gems for the Yugaverse, such as Crypto Punks and Meebits collections.
Adoption of Meebits and CryptoPunks
CryptoPunks is an Ethereum-based NFT collection launched in 2017 by Larva Labs. This collection has value because only 10,000 Crypto Punks will ever exist on the market. This collection is also one of the first NFT projects executed on the Ethereum blockchain. Since March 2022, the collection has been under Yuga Labs' name, but so has the Meebits, another popular NFT collection developed by the team behind CryptoPunks.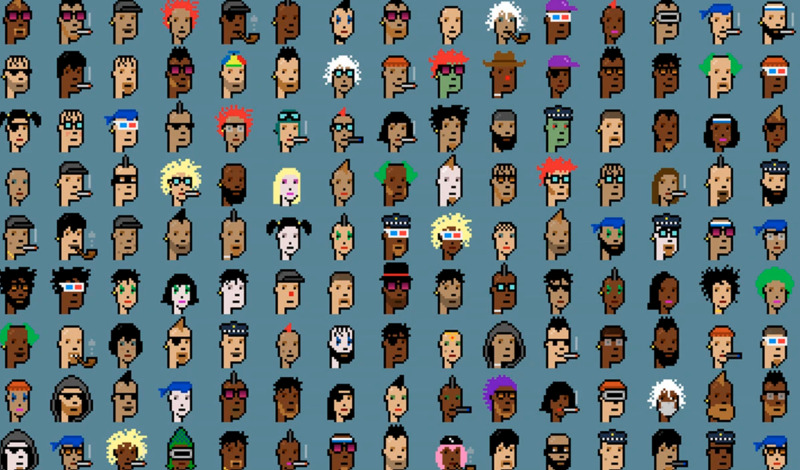 Source: Open Sea
Meebits is a collection of 20,000 NFTs representing 3D-voxel characters you can trade, use as avatars when joining the metaverse, or animate. Similarly to CryptoPunks, Meebits is one of the first NFT collections, and as time passes, the craze around Meebits only amplifies. 
And yes, Yuga adopted these two collections, but it wasn't until late August that Yuga released IP licenses for Meebits and CryptoPunks to this ever-growing community.
Source: Open Sea
After adopting some of the most famous NFT collections, Yuga adopted ApeCoin as a primary token for the Bored Ape Yacht Club ecosystem and other Yuga products. In other words, the token's purpose is to empower the decentralized community, strengthen the BAYC culture, and become a recognized token for gaming, e-commerce, trading, and other blockchain-specific activities.
Otherside and Otherdeed: Joining the Yuga Metaverse
March was a pretty busy month for Yuga, as around this time, they announced the Otherside, a metaverse based on the BAYC community and project. According to the team behind it, Otherside is a massively multiplayer online role-playing game (MMORPG), where over 10,000 players can collide and explore this meta-universe.
The Otherside drives BAYC utility by allowing participants to introduce third-party NFTs into their game. Besides, players can visit Otherside to go on quests, dabble in meta real estate, or simply explore the world the founders have prepared for us.
Source: The Otherside
Now, just like any other metaverse, the Otherside is divided into parcels users can buy, sell, trade, or explore. Currently, there are 200,000 parcels of this land, each represented by its Otherdeed token tradable on Open-Sea.
Of course, there's more to the Otherdeed NFTs, so I'll just keep it simple. APE collectors were eligible to claim Otherdeed NFTs in April 2022, and in July, Yuga eventually opened the long-awaited metaverse for first visitors. The demand for the Otherdeed NFT collection was so great that soon after the minting began, the entire Etherscan network crashed.
Other Project and Success Stories from 2022
Besides adopting and launching a few NFT collections and an entire metaverse, Yuga squeezed in other achievements in 2022, too. For example, the company initiated collaborations with celebrities such as Snoop Dogg and Eminem and even organized the Ape Fest, an annual event for Bored and Mutant Ape collectors.
Source: ApeFest
Besides that, Yuga released a hefty amount of merch and was featured in Rolling Stone magazine two years in a row. In addition, the Meebits collection got its own website and went under a rebranding, and the BAYC got Decrypt's award for the best NFT collection.
As you can see, Yuga Labs achieved the unachievable and became one of the most influential companies in the Web 3.0 space. Their NFT collections are worth millions of dollars, and many want to join the community and get a hold of these rare and visually pleasing tokens.
Their projects will likely continue to grow and attract international attention, and we can't wait to see what else they have in store for us.