About seven years ago, when Apple started working on the headset, it employed a former NASA engineer who had used augmented and virtual reality to explore Mars. At the time, the question was why an ordinary user would need such a powerful device.
With the Worldwide Developers Conference (WWDC) approaching, that question is still lingering as the company prepares to launch the revolutionary product. Apple might not have developed a genuine "killer app" that will make you buy the product at all costs. Rather, the company is attempting a different strategy: equipping the product with everything you can imagine.
What are we in for?
As per the report, the headset, estimated at $3,000, will run current iPad applications with little to no additional effort. Users will be also able to watch news, sports games matches, along with videos with immersive environments.
The headset would compete in a market already dominated by the PlayStation VR 2 and Meta Quest 3. It is rumored to have a huge focus on gaming, which may imply an additional platform for Apple Arcade games.
Source: Bloomberg
The battery is expected to last for about two hours. However, the AR/VR headset will be equipped with an external one. Users may keep it in pockets and attach it with a cable when needed. The device will include a USB-C connector for data transfers.
Anticipated features
The headset, which might be dubbed Reality Pro or Reality One, is expected to be packed with a variety of new technologies. A tiny portion of them is listed below.
The possibility to run thousands of current third-party iPad apps available on the App Store with little to no modifications.
The capacity to use the majority of iPad apps in mixed reality (MR). Those apps include, but are not limited to Camera, Contacts, Books, FaceTime, Home, Freeform, Messages, Files, Music, Notes, Reminders, Photos, Safari, Stocks, Weather, and TV.
A Wellness app with guided meditation, calming sounds and immersive graphics.
A new portal for experiencing sports in VR.
A strong emphasis on gaming, including top games from seasoned third-party creators for Apple's other devices.
The possibility to use the headset as an external monitor for Mac.
Improved video conferencing and VR meeting rooms with lifelike avatars, giving users the impression they are interacting in the same location.
Novel collaboration tools that enable users to work on virtual whiteboards and revise the materials. The tools are powered by the Freeform app.
A brand-new Fitness+ VR experience for exercising while wearing the device. However, this feature may not be available in the beginning.
A new way of watching videos while being fully immersed in a virtual setting, like the sky or a desert.
Ability to operate the headset in a variety of ways – by hand and eye control, as well as voice commands. It will also be compatible with other Apple devices.
Will it blow users away?
Bloomberg reporter Mark Gurman didn't seem to be much impressed with the upcoming Apple product. However, Evan Blass, a famous leaker from the Android realm claims that the new headset will indeed be revolutionary.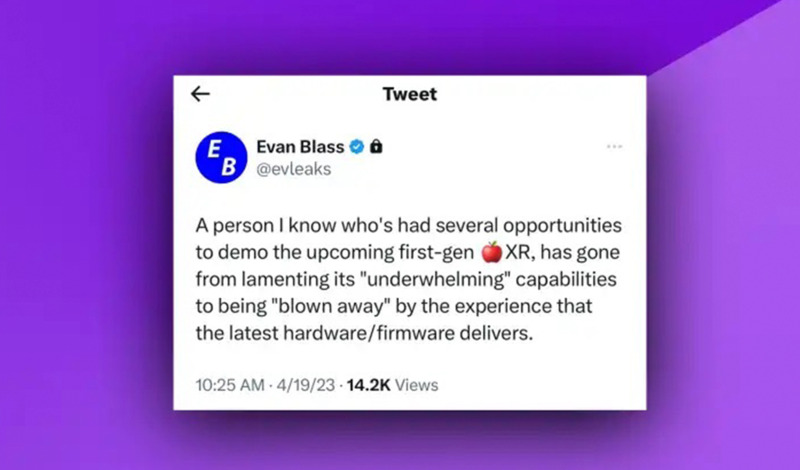 Source: Twitter
In his tweet which is, unfortunately, available to his followers only, Blass explained that a person he's acquainted with had had several opportunities to test the device. Initially, the person was not so impressed with the first-gen Apple XR. Yet, they changed their view completely as the Apple headset kept improving over the previous iterations. At the time, they are "blown away" by the overall experience the gadget delivers.
Do note, however, that this is a rather resounding statement. Other reports haven't shared such a strong and polarized opinion. Quite the contrary, they reported that the gadget wasn't quite up to Apple's common standards. Hence, though it represents only one person's perspective, this new report gives a completely different image. It is one of the few that can be linked to a particular impression rather than a general reaction.
What can't be denied is the fact that the new headset is only the beginning of Apple's plans to get into mixed reality. The Cupertino-headquartered company has already started building not one, but two follow-up models. One is an updated premium model that will provide more processing power. The other is a downscale product that is expected to make the technology more accessible to everyday users.
Not the only star of the show
While the AR/VR headset will undoubtedly be the star of the June event, the annual WWDC will include other products as well.
In addition to the virtual reality device, The Cupertino giant plans to reveal new MacBooks and macOS 14, iOS 17, iPadOS 17, watchOS 10, and tvOS 10. Developers will gain access to previews after the keynote event. This way, they will have an opportunity to benefit from new features before a public launch.
Instead of a single huge headline feature, iOS 17 is anticipated to include multiple improvements that users have been requesting. Yet, it is currently uncertain what enhancements precisely will be included. Rumors have it that those will be some of the "most requested features."
It's worth noting that the update won't be quite as substantial as some other releases. Namely, Apple is getting ready to make a significant change to the App Store that will enable sideloading on gadgets sold in Europe. This is a result of legislative changes made by the European Union, and it is anticipated to only affect iPhones in Europe.