According to exclusive IGN statistics, in the first 60 days of release, the game became Youtube's biggest gaming launch, with over 3 billion combined video views. For comparison purposes, GTA 5 saw 1.9 billion views, Red Dead Redemption 2 saw 1.4 billion views, and Elden Ring now tops the charts with 3.4 billion views.
Source: Twitter
But what makes this game special and why is everyone so enamored by it? What does it have that makes the critics reward it with almost every important gaming award there is? Read on about the specifics of Elden Ring and what makes the game so special.
The secret sauce
Some experts try to boil down Elden Ring's (ER) success to the Covid-19 induced stay-at-home phenomenon. However, it's not as simple since other game launches during this period don't come close to ER's success. Another complicating factor surrounding ER's popularity is the fact that the game is a "niche game." By niche game, we mean a brutally challenging open-world RPG (imagine an open-world Dark Souls or Bloodborne).
Then, what is it that makes it so special? Actually, it's a combination of factors. Game of Thrones creator George R.R. Martin was involved in creating the game's lore and the universe. Having his name behind the game certainly boosted its popularity.
Additionally, word of mouth helped the game reach dizzying sales numbers. How do we know? Gamesindustry, ran a survey that showed that 40% of respondents said they purchased the game after their friends recommended it.
Finally, the fact that the game is very challenging, like most FromSoftware games, elicits another form of connection and devotion towards the game. Yet, FromSoftware improved upon their well-known formula of creating Souls-like games (brutally difficult, dark phantasy RPG games).
The game itself suits different play styles and the fact that it's an open-world game is important. If you are stuck with one boss, you don't have to beat him now; you can level up your gear and come back. This, in essence, means that the roadblocks are not deal breakers, thus expanding the fan base the game enjoys. The polishing of the core game mechanics FromSoftware performed made most of the game critics fall in love with ER.
Game critics
After receiving almost universal praise from the critics and most of the gamer base, ER is near the top of best-rated games ever.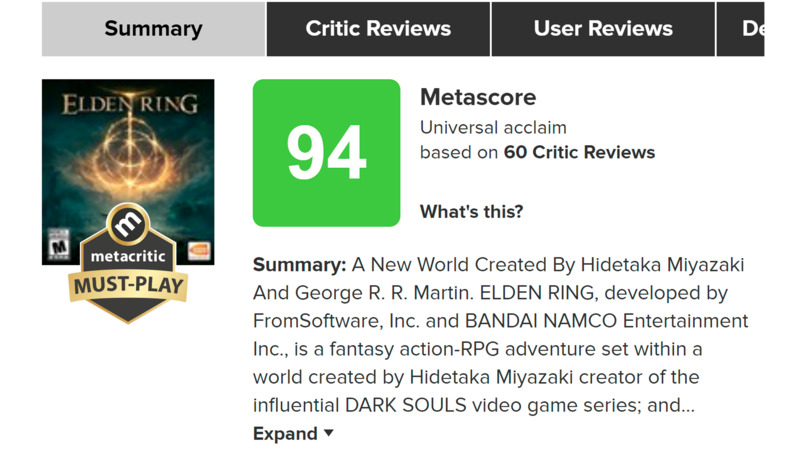 Source: Metacritic
IGN gave a succinct review of the game, claiming that the game is a masterpiece.
Elden Ring is one that we'll be looking back on as a game that moved a genre forward.
Other reviews read much the same way as the one from IGN. Critics note how much fun every twist and turn in the tale provides and the challenge the combat poses to players.
With such impressive reviews, it's no wonder new players are coming in droves to see what the hype is all about. If you're still unsure whether you should give the game a go, we suggest you check out the detailed game review by GamesHub. But be warned; you will be very tempted to try it out. However, there is another highly popular game that may be vying for your attention: God of War: Ragnarok.
Elden Ring vs God of War: Ragnarok
The battle between these two gigantic game launches resembles the battle of the titans. Both ER and GoW: Ragnarok enjoyed tremendous pre-launch hype by the gaming communities. However, after the dust settled, we had one clear winner: ER. The Game Developers Choice Award for the Game of the Year, the one award to rule them all, decided that ER is the game of the year, ahead of GoW: Ragnarok. The official awards ceremony can be viewed on the official Game Awards website.
After winning the coveted award, FromSoftware director, Hidetaka Miyazaki, said that winning the award was encouraging.
We have faced so many difficulties while developing this game ... so I'm really relieved. I haven't made up my mind to create even more interesting games than this one. As for Elden Ring, we still have more things we want to do, so getting this GOTY award really, really encourages us.
The dark side of Elden Ring
The game launch made gamers and critics happy, and after the game itself collected almost all notable awards, some dark secrets started to reveal themselves. Namely, developers working on ER started publicly speaking on the issue of excessive overtime and low compensation for the amount of work.
In a report shared by GI.Biz, a trustworthy source for the business side of games spoke under the condition of anonymity, and said that numerous developers from FromSoftware were overworked during the development of ER.
"During critical periods of game releases, I often had to work early mornings and overtime for two to three months," one source said.
Furthermore, salary expectations were not met for developers working at FromSoftware. Salary Explorer showed the average salaries in Japanese game development circles, while roles advertised by FromSoftware on average offered 5% less pay than the average.
Where to next?
During an exclusive interview with Miyazaki, 4Gamer.net, inquired about the future of ER and new projects that FromSoftware is currently working on. Miyazaki lauded the rapid growth of FromSoftware which allowed them to create a game like Elden Ring and will help them churn out more interesting games in the future.
I was able to create a title with a sense of scale of Elden Ring because of the growth of human resources in the company, but from now on, I think we will often leave the project to them. In fact, there are several titles directed by people other than me, and it's time to increase the number of developers.
The director focused on the new projects the company is working on but also left the door open for an ER sequel. While Miyazaki didn't specifically say what's the next game that's coming, 4Gamer speculates that the previously popular franchise Armored Core is getting a sequel.
Interesting data points
In December 2022, ER represented the year's most completed game, with 6,000 users reportedly finishing the game, according to data from HowLongToBeat.com. On the other hand, the game was also the most "retired" game as well. This means that players have actually given up on the game permanently or temporarily.
Source: HowLongToBeat.com
There is also additional data from PSN that shows that around half of the players of ER never reached the end of the game. While being the "easiest" FromSoftware game, it is still unforgiving when it comes to certain combat elements, possibly driving away less patient gamers.
Finally, ER is 2022's most reviewed game and the longest game of 2022, making it special across numerous different fields. With such hype and developments around it, will you be patient enough to give it a try? We sure did, and we don't regret it.