Avira Free Antivirus
Avira is one of the antivirus software pioneers, and with a customer base of millions, it has proven over the years that its security solutions are here to stay. Its free antivirus software is not only an excellent tool for protecting against identity theft and scams but also for optimizing device performance and enhancing online security. Avira has received numerous awards for its security solutions, making it a worthy addition to our list of the best antivirus software in 2023.
| | |
| --- | --- |
| Avira Pros | Avira Cons |
| A wide selection of tools | Installation takes up to five minutes |
| Anti-phishing and malware protection | VPN doesn't work with some streaming sites |
| Sleek and user-friendly interface | |
The installation process of Avira may take a few minutes, but the protection you receive afterward is definitely worth the wait. As soon as the app becomes accessible on your device, Avira offers to do a smart scan, which I highly recommend. Unlike Avast, which I'll talk about in a minute, Avira's smart scanner is much more thorough. It highlighted what issues I needed to resolve, and Avira boosted my PC's performance and protection in just one click. Still, I was also given a suggestion on approaching other security issues, which I greatly appreciate.
When it comes to features, Avira will surprise you. In terms of security, it provides virus scans to detect and eliminate threats, as well as the ability to repair or delete unsafe files. Additionally, Avira includes a firewall that monitors the communication between your device and the internet, ensuring a secure connection. Another valuable feature included in the free package is a software updater, which allows you to identify and update apps that may be running on outdated code. These features enhance the overall security and performance of your device.
Source: Avira desktop app
That's not the end of Avira's privacy tool selection, though. Avira's free antivirus software features a VPN with a 500 MB monthly data allowance. And if you have trouble remembering strong passwords for optimal online safety, Avira's password manager will come in handy. The free version also offers a secure browser, which you have to install manually, and a file shredder for deleting your files and making them inaccessible by hackers.
Source: Avira desktop app
What I really appreciate about Avira – besides its security features – is its non-intrusive approach to sales. I've been using Avira for a week now and I still haven't been bombarded with aggressive popups urging me to switch to a paid service. This approach allows users to determine on their own terms whether to upgrade their paid plan.
Speaking of paid services, you can find Avira premium subscriptions on their official website. Here's are the differences between Avira free antivirus and Avira Antivirus Pro:
| | |
| --- | --- |
| Avira Free Antivirus | Avira Antivirus Pros |
| Offers a 500 MB data allowance for its VPN | All features included in the free version |
| Boost device performance | Blocks malicious websites |
| App updater feature | Blocks hijack attempts on your browser |
| Scans for viruses | Protects non-encrypted mail traffic |
Avast Free Antivirus
Just like Avira, Avast is one of the first five antivirus companies in the world. With over 30 years of experience and a proven customer gratification and satisfaction track record, Avast is still one of the best antivirus software on the market. Dedicated to keeping you safe, Avast provides basic levels of protection to anyone who wishes to avoid a data breach or a similar disaster.
| | |
| --- | --- |
| Avast Pros | Avast Cons |
| Easy to install | They're kind of using scareware tactics, not cool |
| Excellent scores from global testing labs | Lots of pop-ups |
| Additional goodies, including Avast Secure Browsing | |
Avast installation process is simple and easy, making this antivirus promising from the start. I didn't even have to create an account to initiate my first smart scan, which only took less than 2-3 minutes to complete. So, I could say this is the antivirus I'd install on my parents' laptop – it's easy to use and requires minimal effort on the user side.
Another surprise I've noticed upon installation is Avast Secure Browser. Avast's browser was automatically installed on my device and set as a default browser. Not the feature I wanted and definitely not the feature I needed. But for those needing a better browser, Avast Private Browser auto-installation might come in handy.
Besides that, Avast offers a browser extension for your browser for a stronger online security, so if you aren't a fan of their browser, you could always go for the extension. Or not – up to you!
Source: Avast desktop app
Avast does offer a free service, but its antivirus protection level doesn't match the paid service. Here's how they differ:
| | |
| --- | --- |
| Avast Free Antivirus | Avast Premium Security |
| Blocks ransomware and viruses | All features included in the free version |
| Protects private docs | Offers to auto-update other apps |
| Provides a safer shopping experience | Shields your device with an advanced firewall |
| | Prevents DNS leaks |
| | Keeps your webcam safe from hackers |
Of course, the paid Avast antivirus software is much more secure than its free counterpart. However, Avast Free itself isn't bad at all. As you can conclude from the image below, the free version comes with quite a few features, such as Network Inspector or Firewall.
Source: Avast desktop app
The free version doesn't offer auto-updates on your device, but it does have a feature that scans your apps and shows which ones need a software update. In addition, you can use their Do Not Disturb Mode to block notifications from other apps, including Avast, when specific programs are open. It's a heavenly feature for writers who need some quiet time, although my boss would disagree.
Now let's talk about the not-so-fun side of Avast. One of the first things I've noticed is that they're relying on a scareware tactic to trick people into buying their products. Not the most ethical approach to sales and marketing, and definitely not the most productive one. Nevertheless, if you opt for Avast, be prepared to be bombarded with offers and potential "advanced issues found- resolve all" popups. Oh, and the only way to "solve" the issue is to buy their product. Not cool, Avast, not cool.
If it weren't for these sales tactics, I would've used Avast daily. After all, Avast is an industry leader trusted by millions, and its free antivirus software provides good security and extra features for a better user experience. So, Avast is still on this list because despite their shady sales tactics, at the end of the day, they still have an outstanding service to offer.
AVG Free Antivirus
Here we have another industry leader with remarkable free security solutions millions of people use to this day. AVG made a name for itself by having an almost 100% malware detection rate, making it one of the primary choices for cyber attack prevention. Although the free version doesn't come with many features, AVG is undoubtedly one of the best free antivirus software on the market, and here's why.
| | |
| --- | --- |
| AVG Pros | AVG Cons |
| Excellent malware detection | Doesn't offer many additional goodies |
| Easy to navigate | Incomplete protection against possible threats |
| Versatile customer support options | |
Antivirus apps can put a strain on your PC, but that's not the case with AVG. AVG installation doesn't affect PC performance or impact it negatively in any other way. The app is easy to use, as well as its private browser, which you'll get in the free package. Still, I would have to say that the user interface is slightly overwhelming, but that's just my personal opinion.
Now, AVG's free antivirus package includes antivirus only, along with some additional goodies that are not necessarily security oriented. One of these features is a privacy mode that silences notifications for Windows, AVG, and other apps. It also features a data shredder, and you can use it to shred files, folders, remains of deleted files, or the entire hard drive and everything on it.
Source: AVG desktop app
AVG offers protection for free users, but its paid subscription is far more remarkable. It includes more features – it doesn't just block viruses and ransomware.
| | |
| --- | --- |
| AVG Free Antivirus | AVG Internet Security Plan |
| Blocks viruses and ransomware | All features included in the free version |
| Data shredder | Protects private docs |
| Do not disturb mode | Stops unwanted remote desktop access |
| Quarantine and Rescue Disk features | Excellent firewall |
| | Protection against fake websites |
Advantages of Using Antivirus Software
Antivirus software is a program that can stop or remove viruses and similar threats lurking around your device. Without proper protection, malicious software can infiltrate and damage your device and compromise your data's security. It can lock you out of the device, exploit sensitive data, or wreak havoc on your operating system. As a result, it's imperative to optimize your device for defense and ensure common threats can't find their way to your digital doorstep.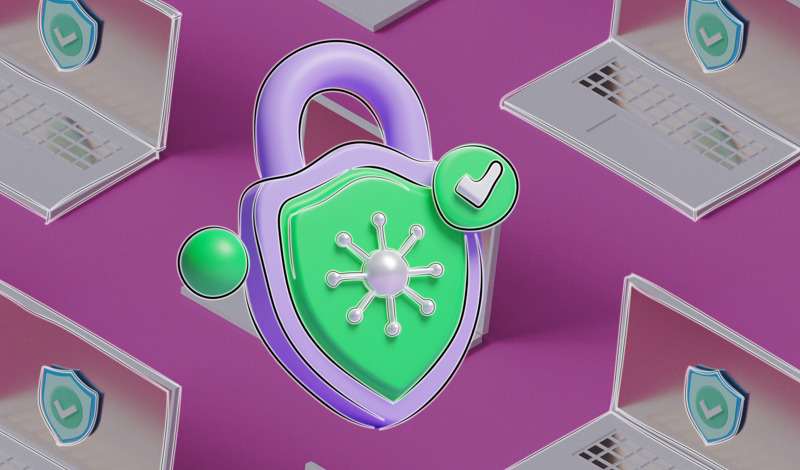 Photo illustration: Freepik
Antivirus software offers many advantages that are worth considering. Some of the key antivirus software advantages include:
Blocking ads and spam: Antivirus software can prevent malicious ads and spam from infiltrating your device. Blocking these potential gateways helps reduce the risk of malware infections.
Protecting sensitive data: Using various methods, hackers can install malicious software on the victim's device and access their personal data. This includes identity or financial data, which can be exploited in many ways. Initiating regular antivirus scans is one way to protect yourself from identity or credit card theft.
Protecting against removable devices: Antivirus software keeps a vigilant eye on all files entering your system, including those from external removable devices like USB flash drives.
Optimizing your device performance: Slow device is one of the possible malware signs. Antivirus not only removes current threats but also protects you from future malware infestation attempts, keeping your device fast and healthy. In addition, antivirus software often offers tools such as file shredders, allowing you to remove useless files and free up disk space, resulting in better device performance.
Protecting your children online: Many paid antivirus solutions offer features such as parental controls to help parents protect their children from online harm. So, in combination with other benefits, such as malware and phishing protection, VPN and firewall availability, and data protection, antivirus is a solution worth investing in.
Free vs Paid Antivirus Software: Which Is Better?
Undoubtedly, any paid service is better than its free counterpart. However, it goes without saying that any protection is better than no protection. So, if you aren't sure which antivirus software you want to use or want to test multiple options before committing to one, using a free service is an excellent way to make up your mind.
This allows you to experience the basic functionality and performance of the software of your choice before making a financial commitment. Remember, having any level of protection is the first step towards protecting your device against potential threats.
Photo illustration: Freepik
It would be best to eventually switch to a paid service, primarily because it offers greater protection. As you've seen in these short antivirus software reviews, free software provides the bare minimum to keep you safe. Of course, you get access to cool features that provide additional security measures, but at the end of the day, preventing one form of treats doesn't shield users from others. If you want to ensure that no one in your household can fall victim to cyber-attacks, installing paid antivirus software is necessary.
On top of that, free antivirus software usually offers protection on one device only. Paid versions, on the other hand, could secure multiple devices in your household or office at once, creating a network of safe devices in your surroundings.
My final verdict would be that each internet user should assess their cyber hygiene practices and scout for solutions to their current security issues. Whether we opt for free or paid antivirus software, educating ourselves and learning to recognize potential threats is also essential. Combining reliable antivirus software with a proactive approach to online security can enhance our protection against cyber threats and help us create a safer digital environment for ourselves and others.